Whether it's Cinco de Mayo or you simply want a Mexican-themed party over the weekend, there are lots of delicious and savory recipes that you can prepare. No matter how many guests are coming over, we have prepared an assortment of quick and tasty recipes to leave a mark on your social gathering.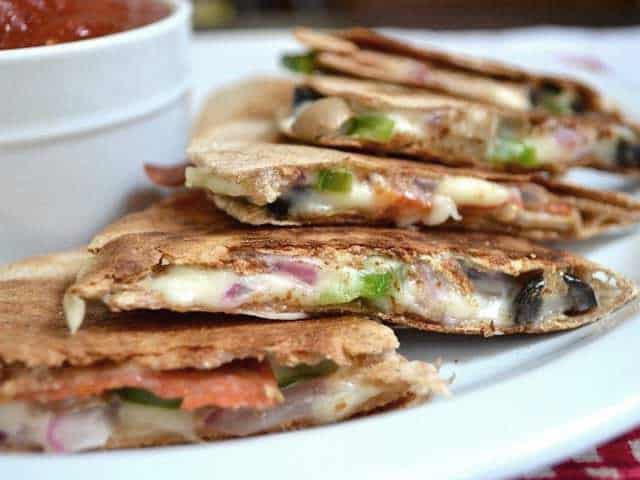 Pizzadilla
Ingredients for the tortilla:
4 cups of all purpose flour
2 tsp baking powder
1 tsp salt
2 tbsp lard
1 ½ cups water
Toppings:
6 cups pizza sauce
Pepperoni slices
12 cups mozzarella, shredded
2 red onion
4 bell pepper, seeded and sliced
4 cans of mushrooms
9 cans of sliced black olives
Whisk the baking powder, flour and salt in a bowl. Add the lard using your fingers until the mixture is similar to cornmeal. Add water to the dough and mix until it fully comes together. Knead the dough on a lightly floured surface until the dough becomes elastic and smooth. Split the dough into 24 pieces. Roll every piece to form a ball and flatten it on a tortilla press. You can use a rolling pin as a substitute.
Prepare the toppings. Make sure the vegetables are thinly sliced and the mushroom and olives are drained. For faster and uniform cutting, you can use a vegetable chopper.
For every pizzadilla, add ⅓ cup of shredded mozzarella cheese. Place the cheese over a half of the tortilla and add other toppings. You can add more cheese at the top before folding the other half of the tortilla over.
Preheat a frying pan over medium-high heat. Cook the pizzadilla until it turns crispy and brown on each side. Once the cheese has melted inside and both sides are now crispy, cut the pizzadilla into three slices. Use the pizza sauce as a dip.
---

Chili Con Carne
Ingredients:
1 garlic clove, peeled and crushed
1 large onion, finely chopped
2 tbsp butter
2 tsp tomato paste
2 tbsp all-purpose flour
½ tsp ground cumin
1 tsp dried oregano, crushed
1 ½ tsp chili powder
1 can of whole peeled tomatoes, chopped
1 lb ground beef
1 can kidney beans, drained and rinsed
Salt and pepper to taste
Mix the garlic, onion, and tomato paste on a large pan over medium heat. Cover the pan and let it simmer for 5 minutes.
Add butter and stir until it melts. Add flour, cumin, oregano, chili powder, chopped tomatoes and ground beef to the pan. Cook without a cover for about 8 minutes. Stir it from time to time.
Add in the kidney beans and let it cook for 4 minutes. Add salt and pepper to taste.
For a faster alternative to this recipe, take a look at our best canned chilli for 2021!
Looking for more Mexican food recipes? Check out this practical video that shows you how to cook 12 super simple Mexican meals, or head over to Try Lamb for this amazing Mexican fajita recipe!
---
Food always tastes better when cooked in high quality cookware… take a look at our best ceramic cookware sets and copper cookware sets!